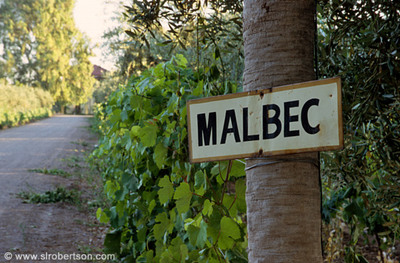 I hold it in high belief that if there is something you are passionate about, it will serve you well to learn as much as you can about it, and given my intrepid love of Malbec, I decided a while back to dig my heels into the history of this wine, synonymously known as one of my vices.
I was first introduced to the Malbec grape varietal, through passage of Argentina, so, I naturally assumed that this wine was native to and originated in Argentina – some sort of hybrid of another varietal brought from Europe a long time ago.  Moreover, it was not only my introductory drink that led me to think this, every restaurant that I knew that carried Malbec, only listed Malbec's from Argentina.  It wasn't until a few year's ago, on a Sunday (I usually spend an hour in our LCBO, talking to staff and inquiring about new inventory), I noticed a Malbec from France.  My original thought was to be outraged and think "well how dare they try to make this?".  For those of you reading this and already knowing the history of Malbec, you are probably thinking me 'simple minded'.  Nonetheless, it was that experience that charged me to head home and get to the bottom of this Malbec impersonation.  Oh… and in case you were wondering, I also bought the French Malbec, as I felt there was no better way for me to thoroughly investigate, than to consume some of the evidence.
THE HISTORY
Malbec has its earliest mentioning in France, but it's name comes from the surname of a Hungarian peasant, who, apparently, first introduced the grape to the French.  Another interesting point of history is that it was not until 1868, long after the wine had been produced in France, that it was introduced to Argentina, by French agricultural scientist, Michel Pouget.  However, regardless of it's origins, today, when you think Malbec, you immediate think/assume Argentina.
Thought the varietal is still grown in the southern parts of France, its production in this country is nowhere near what it once was.  In 1956, it is said that farmers lost 75 per cent of their Malbec crop, due to frost.  You see, Malbec falls into the category of one of the most needy grape varietals.  Just think of it like this; if Malbec were a television character, it would be Karen Walker from Will and Grace – it's punchy, fun, the life of the party, but yet still fragile. You see, "Malbec is very susceptible to various grape diseases and viticultural hazard-most notable frost, coulure, downey mildew and rot".  You see now what I mean?  But, even though I know all of this, I am still in love.
Malbec didn't have an easy go of it in Argentina either.  It was said that in the early 20th century, 75 thousand acres of it was demolished to make room for cheaper and higher yielding wine products, often referred to as 'jug wine'.  It wasn't until in the late 20th century that Argentine wine makers turned their efforts to creating more quality wines for export, especially Malbec's, causing this wines share of acres to grow tremendously.
Today, Argentina houses the largest crop of the Malbec grape varietal and outside of this country and Chile, the planting of the Malbec grape is decreasing it seems, year over year.
I class Malbec as a medium bodied red wine, with undoubted hints of plum, cherry and a resting of a wooden sense on your palate. An overall great crowd-pleaser.